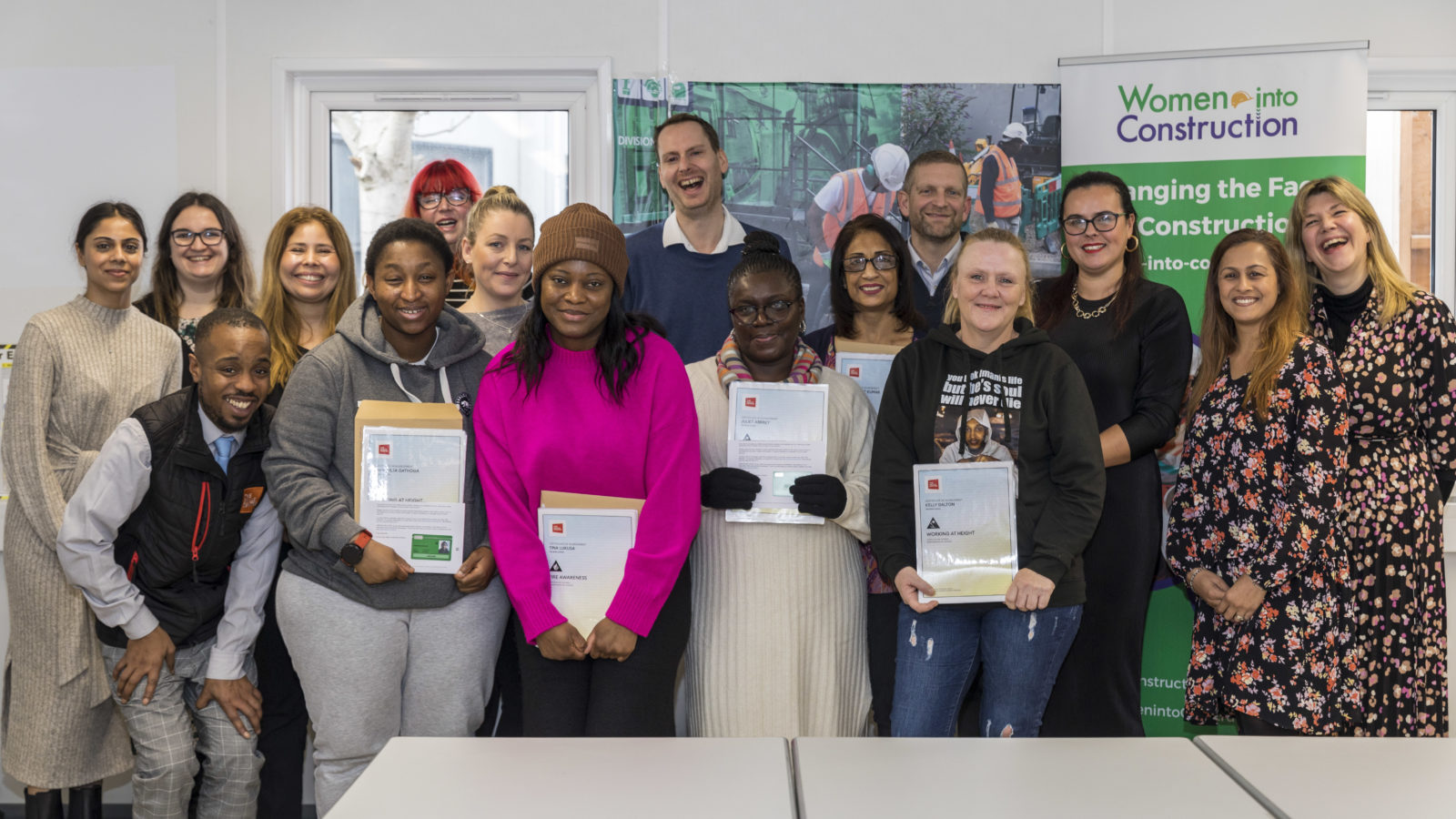 Celebrating the Women into Finishing & Interiors – Build Back Employment Programme
With the Finishing and Interiors sector suffering a huge skills shortage and an urgent need for more Dry Liners across the UK, WiC were delighted to recently partner with Finishes and Interiors Sector (FIS), and The Skills Centre on the Women into Finishing & Interiors – Build Back Employment Programme. Supporting us on the six-week programme were employers Bouygues, Celtic Contractors, Decorella, George Jackson, Measom and Tapper Interiors. The programme was free to participants and employers thanks to funding from CITB, The Skills Centre and Paddington Development Trust EQUIP European Social Fund.
Following an information session in October, 11 women from a wide variety of backgrounds started training at The Skills Centre specialist construction training facility in Southwark under the excellent leadership of Samantha Glen, Course Tutor. The training programme was developed in collaboration with The Skills Centre, FIS and employers and included Level 1 Health and Safety and CSCS cards, certificates including Working at Heights, COSHH, Manual Handling & Asbestos Awareness and specific hands-on modules in Dry Lining, led by tutor Ian Toogood. Throughout the training, Samantha and Ian did an outstanding job of preparing the women with the training, skills and knowledge they need to work in the finishing and interiors sector. Samantha told us at our recent Celebration Event; "I was so impressed with all of the women – a 100% pass rate – in fact, they took on additional, voluntary modules too. They were so enthusiastic and in the yard we were so impressed by the quality of their dry lining work".

One of the highlights of the programme was a Speed Networking event where employers met our fantastic participants to discuss and offer meaningful work experience placements. The event was held at The Skills Centre and what a great event it was! Initially, there were some nerves from the women but by the end of the day, the room was full of excitement with the participants eager for WiC Project Manager, Kirstie Forrester, to match them to the work experience placements on offer. One woman told us; 'Wow, I scored A's! I have never scored an A before in my life! I am so excited, I am buzzing. Thank you so much, I can't wait to get cracking.'
The women were then matched and completed a variety of work placements across London including Painting and Decorating, Decorative plaster work, Project management and Dry Lining. There were some challenges as the women experienced the reality of working on site in this part of the construction sector, but WiC worked with the employers to ensure these were ironed out and the women gained some useful practical experience during their time with them.
The final part of the programme was a Celebration Event; a chance for everyone to get together and not only celebrate the participants but also share best-practice between the employers – a vital step in improving diversity across all sites. The women were presented with their certificates including their CSCS cards and given the opportunity to feedback on their experiences and share lessons to be learnt for future programmes in Finishing and Interiors.
During the event we caught up with Kirstie who told us; 'This employment programme has been more than just a programme for the women. Besides giving them the skills and knowledge to enter the construction industry, it also gave them courage and confidence'
Two women have already secured paid employment in construction; Trainee Bricklayer and a General Operative and three have secured higher level training to support their career goals with WiC working to support all the remaining participants into employment or further training.
We have more work to do to support women into Dry Lining but this programme has shown all partners the significant ability and enthusiasm of women to do this work and it has given us all some insight as to the challenges we need to overcome to support them into this area of construction. WiC, FIS and TSC will be working together to develop future programmes to encourage more women and employers to experience the opportunities offered by Finishing and Interiors sector.
We would like to take this opportunity to thank everyone who worked with us on the programme and wish all the participants the best of luck as they continue their journeys.
Learn more about Women into Construction and view the gallery here.