Social Impact Manger - London
As Social Impact Manager (SIM) at The Skills Centre in Earls Court, you will be central to achieving our mission to transform lives in the area - creating social value through delivering local opportunities to local people.

What you'll do
This is an exciting opportunity to manage The Skills Centre's training hub, on a major new construction development site in the heart of London. We are seeking an individual with a passion for transforming lives, creating social value through delivering local opportunities to local people.
The SIM is responsible for ensuring successful engagement and development of community and partnership networks whilst supporting people into the construction sector. The role involves working with key partners to embed and deliver stakeholder and community based KPI's. The SIM will be responsible for delivering outstanding customer service and facilities at our centre.
Principle duties and responsibilities

Partnerships
Manage, support and deliver the overall partnership strategies required at the centre and establish effective communication channels with key stakeholders.
Develop and manage the reporting skills strategy and diversity and inclusion strategy in line with partner and stakeholder requirements (KPIs) and sustainability/social and economic plans.
Lead and support the centre to build effective communication channels with local employers to understand their needs and requirements.
Lead the development of ongoing community engagement with established community networks, sub communities and less formal networks through a programme of communication channels, virtual (e.g. zoom meetings) and/or face to face engagement that engages with people within their communities.
Understand the needs of the local stakeholders and community
Developing and implementing communication and engagement strategies and plans engaging with all stakeholders, the local community, customers and the general public.
Centre Priorities
Responsible for leading the staff team based at the centre
Responsible for leading initiatives to inspire the community and promote construction
Responsible for the overall customer services experience at the TSC Centre and implementation of improvement strategies
Responsible for communication with stakeholders for site locations, internal and external delivery space, updates and changes.
Responsible for the leading changes to the site facilities
Responsible for ensuring the Health and Safety strategies in conjunction with the Health and Safety Manger.
Reporting
Responsible for the overall reporting of the agreed KPI's to the board and stakeholders.
Responsible for the budgeting and reporting of key financial information.
Responsible for reporting learner success and achievements to partners, stakeholders and the board.
Key experience, knowledge and skills
Experience of managing a complex and diverse team
Experience of partnership working.
Experience of creating and delivering KPI's that meet the needs of partners and stakeholders.
Good working knowledge and understanding of the construction industry.
Experience of designing and delivering engagement strategies for partners, stakeholder, learns and the wider community.
Experience of stakeholder engagement activities.
Knowledge of apprenticeship and AEB systems, legislation and regulations, together with a working knowledge of post-secondary education.
Knowledge of construction trades, clients and a working knowledge of trends in the industry
Excellent understanding of S106 requirements
Qualification and training required
ILM or equivalent Management Qualification (substantial experience will be considered)
Senior experience of stakeholder and partnership working
Job Title: Social Impact Manger
Responsible to: Partnership Director
Principal Contacts: Customer Support
Location: London – Centres at Southwark, Stratford and Earls Court
Salary: £46,000.00-£55,000.00 per year negotiable depending on skills and experience.
More about us……..
Transforming lives - creating social value through delivering local opportunities to local people.
From our centres located around the UK, we're opening the door to the next generation of construction workers and benefiting local communities by providing opportunities to develop new skills and secure employment.

We partner with councils, major developers, and contractors such as British Land, Transport for London, Southwark Council, JCB, Lendlease, Mace and others to offer training with direct pathways to jobs, for those looking to start a career in the construction sector.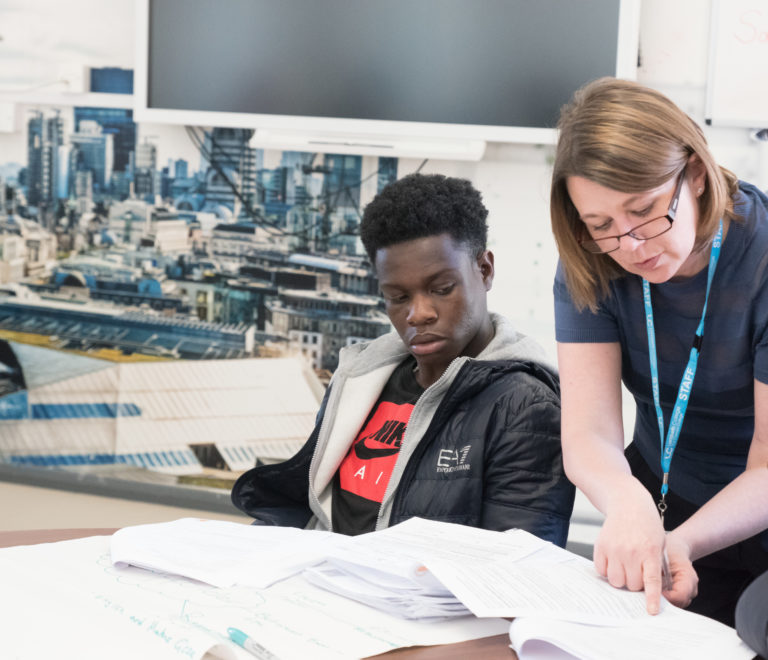 Apply Now
Next, we ask that you submit your details below and a member of the team will be in touch either by telephone or email.

You are welcome to send your CV and cover letter to recruitment@theskillscentre.co.uk or if you would prefer an informal chat first, that works with us!
Download Full Job Spec
To apply please send a copy of your CV and Cover Letter to: recruitment@theskillscentre.co.uk.
The Skills Centre is committed to Safeguarding and promoting the welfare of children and safeguarding checks will take place. The role is exempt from the Rehabilitation of offenders Act 1974 and the amendments to the exemption order 1975,2013,2020 and an enhanced DBS check will be undertaken for the role.
We aim to be an equal opportunities employer and we are determined to ensure that no applicant or employee receives less favourable treatment on the grounds of gender, age, disability, religion, belief, sexual orientation, marital status, or race, or is disadvantaged by conditions or requirements which cannot be shown to be justifiable.